The history of English literature, as it is read, taught and enjoyed, in Khyber Pakhtunkhwa, would forever remain incomplete if it does not find adequate mention of sir Zia's contribution to it. Syed Ziaul Qamar, who died three days ago on August 24, 2017, had this unique ability of making one instantly fall in love with English language.
One wonders how many thousands of his students knew that this man dressed more often than not in western apparel and speaking English language with an enviable savoir faire came from a village in the backwaters of Khyber Pakhtunkhwa. Very few, perhaps. And yet he did, and for all his mastery of the English poetry, a substantial part of which he had memorised with the ability to recall it and recite it most beautifully just at the right moment, at heart he was an archetypal Pashtun villager.
My little knowledge of English language and literature tells me that Khyber Pakhtunkhwa is blessed in the sense that it gave birth to such illustrious sons in the field of teaching English language and literature that include among others sir Zia, and lest one forgets professor Daud Kamal who died pretty young. While the latter finds a place alongside Pakistan's top English poets, Tariq Taufiq and Ejaz Rahim, it was the former who had this great ability of lending beauty to the poetry through his voice in the profoundest and most evocative possible manner.
It was incredible to see that age, man's eternal enemy, had utterly failed to cow him down when it knocked at Ziaul Qamar's door, and settled down beside his bed. Even in his advanced years, he was as spirited as a teenager. But a deadly disease finally afflicted him with such force that it sapped his reserves of youthful agility in no time.
Except for the last about one and a half year, he made the best of all seventy plus years of his life. A consummate artist embodied his whole being that he would take pains to be noticed and appreciated by those who knew him and loved him no end.
Even ordinary people, who did not know of his full-time career as a teacher, were impressed with his great talent as an artist of considerable standing. One would hear such people commenting, 'oh, Ziaul Qamar, yes indeed, he acted very well in so many famous Pashto dramas.'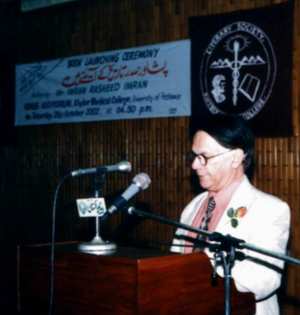 'He looked like an elegant, graceful and incredibly perceptive gentleman from the Victorian era,' recalls Asad Ali Jan, an avid reader and a great admirer of Ziaul Qamar. 'Every single moment spent in his company was like a spell of unequalled entertainment coupled with some very useful information,' recalls Dr. Adil Zareef, who was by his bedside when the quintessential teacher breathed his last. That must have been very true since one couldn't have expected anything less than that from someone who had literally memorised P.G. Wodehouse.
Perhaps, 'Ulysses' by James Joyce was his all-time favourite novel which he would make it a point to be mentioned as a compulsory reading to those who loved to hear him talk of his literary genius. It was this kind of reading that had brought him to regard Qurratulain Hyder as one of the best writers in Urdu language. Whenever an opportunity beckoned, he would cite 'Aag Ka Darya' as a milestone in Urdu literature that must not be left unread. Likewise, though he had memorised almost all famous poems of Shakespeare, Keats and Shelley, it was the 'Waste Land' by TS Eliot that he regarded as the most remarkable work in English poetry. Even after some distressful circumstances had restricted his mobility to his house, he kept enjoying himself in small little ways.
He loved to read his daily newspaper in a manner that was no less than a small ceremony. Since he took his reading very seriously, he would remember what he had read for a considerable length of time, and would then broach the subject matter of such writings with whomsoever called on him.
Ziaul Qamar was a true son of the soil. His span in teaching had also taken him to the tribal agency of Bajaur. Like a true romantic of the Victorian age, he took up the challenge but then had to quit it prematurely due to some adverse circumstances.
He loved every single part of his land, and would often ask me to pay his respects to the mountaintop at Thandiani whenever I told him about my location wherefrom I beheld a most splendid view of the mountains.
Unfortunately, sir Zia got a very raw deal from the institution that he gave the best years of his life to. Gandhi did not get Nobel Prize which in the annals of the Nobel Prize has been noted in these words: Gandhi could do without the Nobel Prize, whether Nobel Committee can do without Gandhi is the question.
Edwardes College Peshawar
Let me manipulate this statement a little and then beg leave. Sir Zia could do without the Edwardes College Peshawar, whether Edwardes College can do without Ziaul Qamar is the question. Since he had read most of my articles for Dawn, and analysed each one of them critically, I wonder if he would miss this one somewhere up in the heavens!