The United Nation Information Centre in partnership with the Tourism Corporation Khyber Pakhtunkhwa & Directorate of Culture opened a photo exhibition, "Pakistan Sustaining Development: "Human Stories through Photography" at Nishtar Hall, Peshawar. The exhibition looks at the lives of Pakistani people through the lens of United Nations Sustainable Development Goals. It includes 102 photos from all over Pakistan, organized in 17 collections, according to the Sustainable Development Goals.
Jointly organized by Agence France-Presse (AFP), the European Union and the United Nations with support from the Embassy of France in Pakistan and UK Aid, the exhibition aims to raise awareness about SDGs and UN's efforts for development in Pakistan and will remain open for public until March 17.
Mushtaq Ahmed, Managing Director Tourism Corporation said "the projects like the "Pakistan Sustaining Development: Human Stories Through Photography" provides an ideal forum for the emerging photographers, artists from different regions, to work together devotedly and provide great inspiration to aspiring new artists to try new techniques, tools and ideas in their work". He further added that I am amazed at the beauty of these pictures, they are so powerful and portray what the SDGs are and what they mean to the people of Pakistan.
Amélie Herenstein, Bureau Chief Agence-France Press for Pakistan and Afghanistan said
"It is a great honor for AFP Pakistan to present, for the first time, our photos directly to the Pakistani public." She further maintained that "We have deliberately chosen to focus on the human angle of the story, showing the reality of life as it is now for millions of Pakistanis, be they shopkeepers, teachers, farmers, children, or immigrants abroad. It also documents the extraordinary resilience of ordinary Pakistanis in the face of tragic events like floods."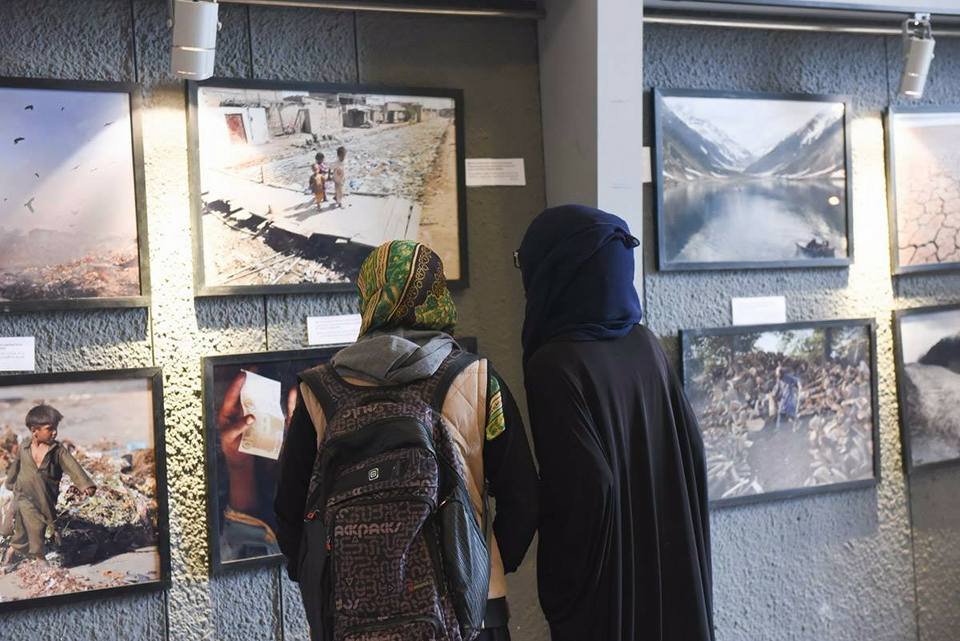 Talking to the audience, Muhammad Luqman, Director General Sustainable Development Goals said
"Attainment of sustainable development goals is the responsibility of everyone of us to salvage our population from the dire miseries of poverty, inequalities, and climate pitfalls. Together with academia, civil society, students and the private sector, the public sector can materialize this dream. Government of KP has already started efforts and will endeavor to seize every opportunity to make implementation of SDGs a success. SDGs is a spirit. It's a mission, therefore it needs priority in the development portfolio".
Andrè de Bussy, Counselor for Cooperation and Cultural Affairs.
"The exhibition reflects beautifully the diversity of Pakistan but it also visualizes the common humanity and spirit of all people here. We are working closely with the government of Pakistan and United Nation in Pakistan and we will continue this partnership to ensure that our assistance contributes to Pakistan achieving the SDGs for the benefit of each citizen of this country".
Speaking at the event, Vittorio Cammarota, Director of the UN Information Centre, "Sometimes words fail us. Feeling pain and sharing the joy of the other is an experience only the eyes can capture and photography is an ideal visual language. The exhibition gives a human face and feel to the issues". "We are honored to bring this outstanding exhibition to Peshawar, it provides people from Khyber Pakhtunkhwa with an unprecedented opportunity to expand their knowledge and understanding of development in Pakistan. Vittorio further added.
The Sustainable Development Goals represent a common agenda, adopted by the world leaders to end poverty, fight inequality and injustice, and tackle climate change by 2030. These 17 goals comprise 169 targets which focus on economic inequality, innovation, climate change, sustainable consumption, peace and justice, among others. Promotion and raising awareness about SDGs is a top priority for UN system in Pakistan.
The exhibition will end, March 16th' 2017
Staso Raye?
comments